Shouldn't have gone ahead with the rally, says Kejriwal
Comments::DISQUS_COMMENTS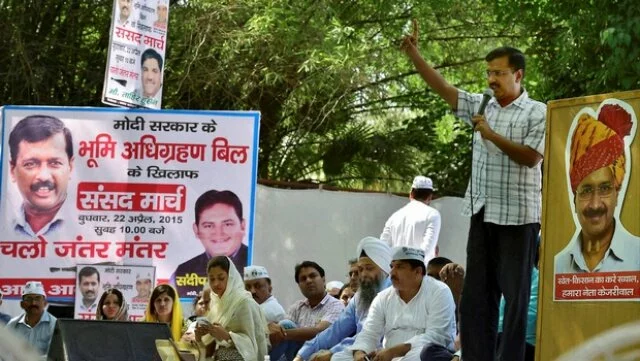 New Delhi: While politicians continue to play the blame game over farmer Gajendra Singh's death during the AAP rally, Delhi Chief Minister Arvind Kejrwial told reporters that he shouldn't have gone ahead with his speech after learning about the farmer.

The AAP chief also said that he went ahead with his speech after Gajendra Singh was brought down from the tree and was alive.

Though he had planned an hour long speech that day, he spoke only for 10 minutes at the rally as he was not comfortable after the incident.

The Delhi Police have accused AAP workers of provoking farmer Gajendra Singh for committing suicide and not making way for the fire tender to reach the spot where the unfortunate incident took place.

In the FIR, police said that AAP leaders and volunteers did not cooperate with the police in saving the life of the farmer.

Gajendra Singh, a farmer from Rajasthan, committed suicide by hanging himself from a tree during the Aam Aadmi kisan rally held at Jantar Mantar for opposing the Land Bill.

The farmer climbed up a tree as top AAP leaders stood there watching the entire incident. Some people tried to save him but the branch broke and he fell down.

He was rushed to nearby RML hospital in a police jeep, but the doctors declared that he was brought dead.


Related items
AAP leader Alka Lamba attacked during anti-drug drive in Delhi
Somnath Bharti's blooper: Says AAP will ensure 'beautiful women' can go out at midnight
'Thulla' remark: Another policeman takes Kejriwal to court
Calling cops 'thulla': Delhi constable files defamation complaint against Arvind Kejriwal