NSA Ajit Doval inspects Burdwan blast site, to talk tough with Mamata Banerjee
Comments::DISQUS_COMMENTS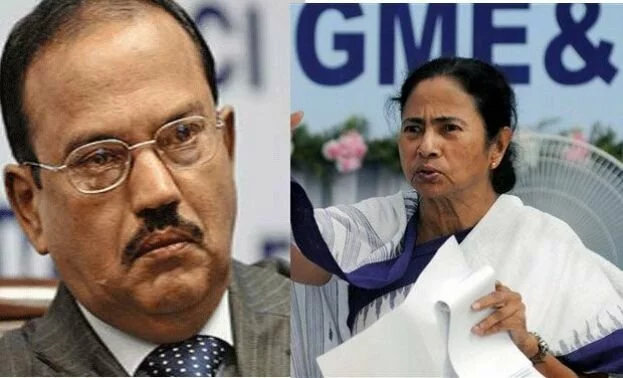 New Delhi: Top security and intelligence chiefs of the country including National Security Advisor Ajit Doval on Monday visited the blast site in Burdwan and assessed the progress of investigations into it. NIA Director General Sharad Kumar, NSG Director General Jayanta Narayan Chowdhury and Intelligence Bureau director Syed Asif Ibrahim accompanied him during the over 30 minute visit to the house at Khagragarh where the blast took place on October 2, police said.
 Doval and the three top officials visited the room where the blast occurred, during which two suspected terrorists were also killed. They also went to the room, which had served as the laboratory of the suspected terrorists and climbed the rooftop of the house to check the visibility of surrounding areas.
 Doval also inquired where the two children of the suspected terrorists stayed in the house. The children, who are toddlers have since been taken into custody along with their mothers, one of whom is the widow of one of the suspected terrorists who died in the explosion.
 Later, Doval met the district officials and asked about the progress of inquiry into the blast, the police added. The four top officials then left for Kolkata to meet Chief Minister Mamata Banerjee at the state secretariat 'Nabanna'.
 Earlier, the security and intelligence chiefs flew in to Burdwan by a chopper from NSC Bose International Airport. They had reached Kolkata in a IAF special aircraft this morning. Today's visit was the second in four days by the NIA director.
 Kumar after his first visit to Burdwan and Murshidabad on Friday had said that the arrested persons in connection with the blast and their associates were members of Jamaat-ul-Mujahideen Bangladesh and were making IEDs to be transported to the neighbouring country for possible terror attacks. Today's visit comes ahead of the Union government's decision to send a report to Bangladesh following a request from that country in this regard.
Related items
China port blasts toll rises to 112; more than 90 still missing
Grenade blast near mosque in J-K's Shopian injures 10 people
South Korea blames North Korea for mine blasts, threatens 'harsh' response
Bengaluru Church Street blasts: Hunt for SIMI member intensified