At Nehru's 125th birth anniversary, Rahul calls PM Modi's 'Swachh Bharat' a photo opportunity
Comments::DISQUS_COMMENTS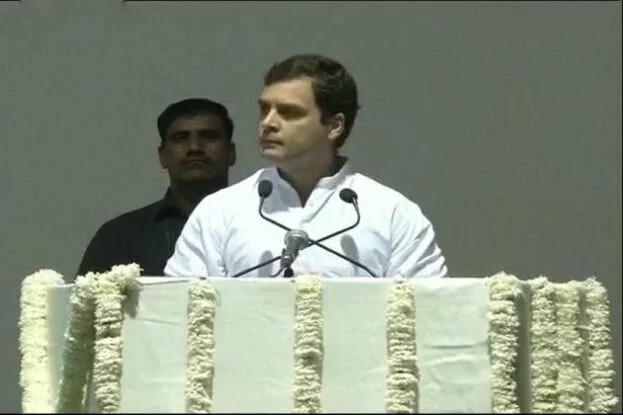 New Delhi: The Congress party on Thursday began massive celebrations to mark the 125th birth anniversary of former prime minister Jawahar Lal Nehru in the national capital. After a drubbing in the Lok Sabha elections and Assembly polls, the the party is hoping to motivate its workers and increase its cadre base through a year long event.

Congress President Sonia Gandhi and party Vice President Rahul Gandhi addressed the conclave and hit out at the Bharatiya Janata Party. Even Prime Minister Narendra Modi and NDA leaders were not invited for the event. Rahul Gandhi took a dig at Modi's 'Swachh Bharat Abhiyan' and said, "On one hand they are cleaning the road for photo opportunities and on other hand they are spreading hate."

Rahul held the BJP responsible for weakening the foundation of the country. "When the foundations are weak, then the enemies of this nation benefit," Rahul said. Listing efforts taken by the first prime minister, Rahul said, "Whatever this nation has achieved from Mars Mission to our democracy is due to the vision of Jawahar Lal Nehru."

The event took place just a few days after the BJP government celebrated Sardar Vallabhbhai Patel's birthday and marked the day as 'National Unity Day'. The Congress is planning to do the same on Nehru's anniversary.

Even Sonia Gandhi backed Rahul and said that Nehru has always called for unity and love. "Jawahar Lal Nehru's vision was liberal, democratic rooted for a united India," she said. Hitting out at the BJP for targeting Nehru, Sonia said, "Those who are targeting Nehru today, they are not targeting any person, they are targeting an ideology."

She added that the Congress will fight unitedly against those who wants to destroy the party. "We will fight with tooth and nail against those forces who want to destroy the ideals and legacy of Pandit Nehru. We need to fight for the people, we need to create a people's movement to fight for the ideals of Pandit Nehru," she said. Former Delhi chief minister Sheila Dikshit also read out the pledge as everyone took oath to work for the country.

 


Related items
World is looking at India: D.V.Sadanand Gowda
Gajendra Singh's suicide rocks Parliament, Modi meets key NDA ministers
Karkal: Tempo joins in cleanliness drive
Pahlaj Nihalani, the new chairperson of CBFC