BJP majority in Jharkhand, close fight with PDP in J-K
Comments::DISQUS_COMMENTS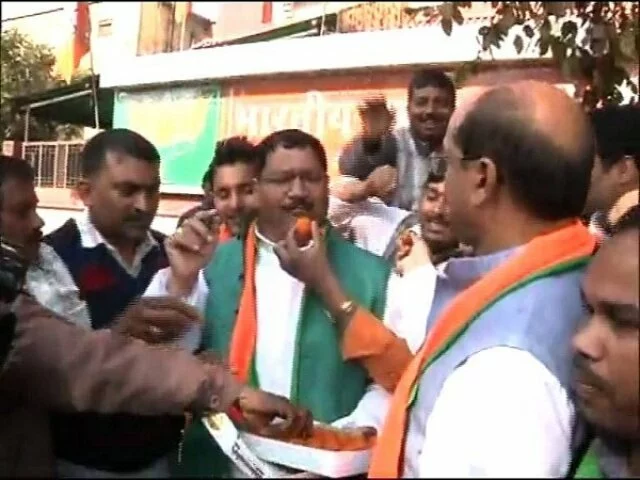 New Delhi: The Bharatiya Janata Party is headed for a majority in Jharkhand but is locked in a close fight with Mehbooba Mufti's People's Democratic Party in Jammu and Kashmir. In Jharkhand, the BJP alliance is well on course to form the government. Results show that the BJP has made significant gains in J-K at the cost of Omar Abdullah's National Conference and the Congress.

The elections in the two states, which stretched for nearly a month, saw 66 per cent voting with authorities making massive security arrangements to prevent any attempts by militants or Maoists to disrupt the polls. "All security arrangements are in place at the counting centres," an official at the Election Commission said.

In Jammu and Kashmir, where polling was held for 87 seats, the turnout was the highest after 1987 despite boycott calls by separatists and militants. The militancy-hit state has seen a quadrangular fight among the ruling National Conference, main Opposition PDP, BJP, and the Congress, which parted ways with the NC ahead of the polls.

J&K chief minister Omar Abdullah, who led the NC's bid to retain power, and the Opposition PDP's chief ministerial candidate, Mufti Muhammad Sayeed, are among the 821 candidates. While Mr Abdullah contested from Beerwah seat in Budgam district and Sonawar seat in Srinagar, Sayeed is seeking re-election from Anantnag Assembly segment in South Kashmir district. Jharkhand, which has been battling Maoist violence, registered an overall 66 per cent turnout for the 81 Assembly seats. The state, which was carved out of Bihar in 2000, bettered the previous mark of 54.2 per cent set in the 2004 Assembly polls.

Altogether 1,136 candidates, including 111 women, contested in Jharkhand which has an electorate of 2,08,52,437, including 98,93,540 women voters. Out of the total seats, 28 are reserved for the Scheduled Tribes and nine for the Scheduled Castes. Jharkhand, which has seen nine governments and three stints of President's Rule in 14 years of existence, saw fractured mandates in the 2005 and 2009 Assembly elections.

The Jharkhand Mukti Morcha (JMM), headed by CM Hemant Soren, is seeking to retain power in the face of a challenge from the BJP. Most political observers and opinion polls are predicting a hung Assembly in J&K. There is speculation about various political parties trying to work out an alliance, depending on the numbers thrown up on Tuesday. The ongoing elections will be a litmus test for the BJP, which is making its first serious foray in Jammu and Kashmir to form government. The Congress will be hoping to stay relevant in state politics after being routed in the Lok Sabha polls earlier this year.


Related items
Congress cheated off people: Sudhir Shetty
BJP protests for water: Opposition and Ruling party members come to blows in Karkala Purasabhe
MCC budget: Old wine in a new bottle says BJP
BJP protest against electricity problem in Sullia