Fire destroys cracker market in Faridabad
Comments::DISQUS_COMMENTS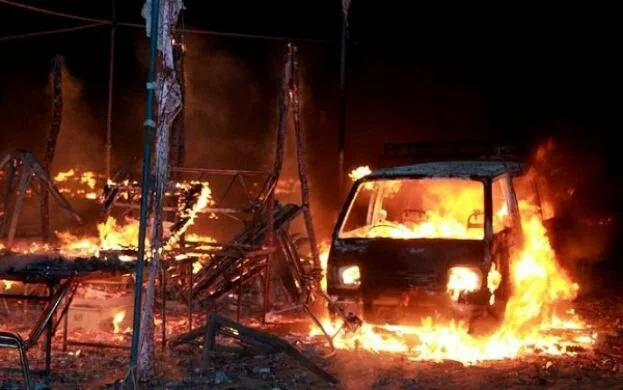 Faridabad: Nearly 200 firecracker shops in Faridabad adjoining Delhi were gutted in a huge fire that broke out Tuesday evening, an official said. The fire broke out in Dussehra ground, one of the few authorised places in Faridabad for selling Diwali crackers. Nearly a dozen fire tenders were pressed into service. Fire tenders from private firms in Faridabad, Ballabgarh and Palwal were also called.
 The cause of the fire is still not known. There was panic among the people present at the spot. Over a dozen private vehicles parked near the place were destroyed in the blaze. 'Two hundred stalls were given licenses to sell crackers in the Dusshera ground. Many of the sellers were decorating their stalls and transporting crackers there. There were also a few buyers in the ground,' fireman Ram Mehar told IANS.
 No casualty was reported, but a few people were said to be missing. One fire tender was at the spot when the fire broke out. Five places, including one in Ballabgarh, were given clearance by the district administration to sell crackers. 'Almost all the stalls were set up with either polythene or cloth sheds. The crackers were put on wooden tables. All these factors helped the fire spread rapidly,' Ram Mehar said.
Related items
Fire engulfs house causing severe damage
Fire breaks in Hemp rope factory
Fire broke at Parliament complex: Home Ministry seeks report
Woman burnt