22 people including students killed as bus falls into a gorge in A.P
Comments::DISQUS_COMMENTS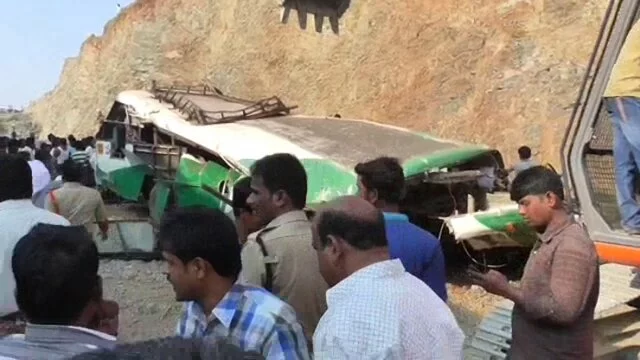 Penukonda: At least 22 people, many of them students were killed when a state-run bus fell into a 30-feet gorge near Penukonda in Andhra Pradesh on Wednesday January 7.

The incident occurred at around 8:30 am when the driver of the Andhra Pradesh State Road Transport Corporation (APSRTC) bus lost control of the vehicle, which then plunged into the gorge. 

Repair work was underway on the road where the accident took place.

The bus was plying between Amarapuram and Anantpur with nearly 60 passengers on board. The injured passengers were rushed to nearby hospitals in Hindupur, Penukonda and Anantapur.

Police and district authorities reached the spot and are rescuing those still trapped in the bus.

Expressing grief over the incident, Chief Minister Chandrababu Naidu directed Anantpur district authorities to ensure that the victims were given proper treatment.

Sources indicate that the death toll is likely to rise. 


Related items
Make in India: AP CM to launch Xiaomi's first India-manufactured phone today
Over loaded bus falls into gorge, hits compound wall of a house
22 pilgrims killed in stampede in Pushkaralu ghat in Andhra Pradesh
Bus topples into gorge in Kateel: Several injured