Mercedes forays into the SUV segment in India; launches GLA class cars
Published in

Automotive
Comments::DISQUS_COMMENTS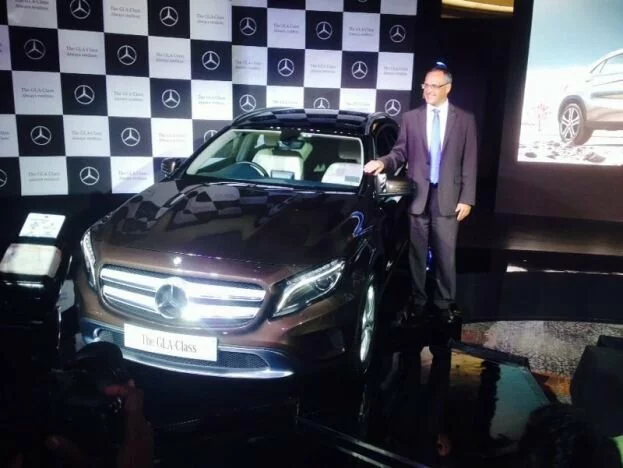 MUMBAI: Having missed out on the compact luxury SUV wave for the past two years, the Stuttgart-based luxury carmaker Mercedes-Benz has finally launched its compact SUVGLA Class in India at Rs 32.75 lakh-Rs 36.9 lakh (ex-showroom New Delhi), a move which might help the company gain volumes in this segment.

The company has bagged 600 bookings for GLA Class within 18 days of bookings opening, which is 50% more than ts recent hit, the A Class, which translated into a double-digit growth for the carmaker in 2013. With GLA Class, Mercedes-Benz aims to sustain this momentum.

Priced at 10% premium over competition Audi Q3 and BMW X1, Mercedes-Benz says it aims to up the luxury quotient in the compact SUV space by offering segment-leading features like seven airbags, Harman audio system and panoramic sunroof with rain sensors to name a few. Eberhard Kern, MD, Mercedes-Benz India, told ET that GLA Class forms an important pillar of its volume strategy, and will join the existing volume drivers like the A and C Class.

"Mercedes-Benz, both worldwide and in India, has a very strong hold in the sedan portfolio, but now we have built a formidable SUV portfolio across segment as well, and the GLA Class is our latest arsenal in the luxury  SUV segment. Our SUV sales have been on the upswing in India and we are seeing more customers buying our SUVs now than ever before. With the launch of the GLA Class, we expect this trend to strengthen further," says Kern.

In 35,000 units of luxury car space, the luxury SUV Class constitutes about a fourth of the market. With the GLA Class coming in, experts say, the SUV space has the potential to capture almost one third of the overall market. The GLA Class 200 CDI Style is priced at Rs 32.75 lakh, the 200 Sport at Rs 36 lakh, and the 200  CDI Sport Rs 36.9 lakh. All prices are ex-showroom Delhi.
Related items
Woman wrecks SP neta's Mercedes
Self-Driving Cars Could Cut Down on Accidents, Study Says