DSF wins gold, solitaire diamond for two Kerala families Featured
Written by  Emirates247

Published in

NRI Form
Read 598 times
Comments::DISQUS_COMMENTS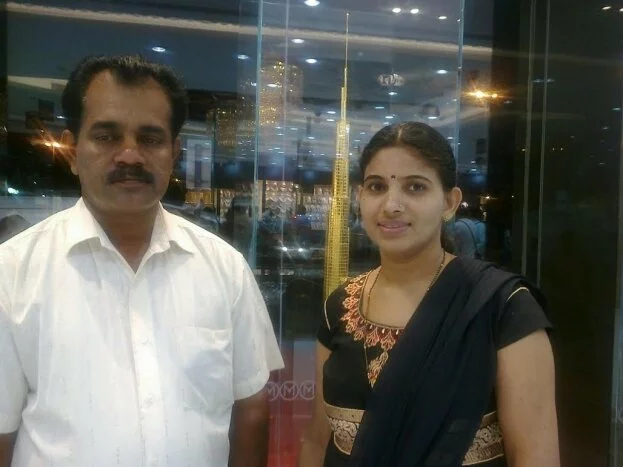 The 20th edition of Dubai Shopping Festival proved lucky for two families from Kerala, who won a kilo of gold and solitaire diamond on Monday.
Both the families, one from Ajman, and the other from Abu Dhabi, were out gold shopping at Malabar Gold and Diamond in Dubai over the weekend..
Abu Dhabi-based Anil and Sumi were pleasantly surprised when their first-born Nithara won them a kilo of gold.
"My husband thought someone was pulling a prank, when they called to inform us of our win. They called him twice, but he didn't pick up. It's only later, when his friends pulled out the coupon and the number matched what the caller had said, that he thought it was authentic. But, we couldn't confirm until next morning, as the list of winners was not updated online," Sumi revealed 
Anil and Sumi had shopped for a gold chain and bangle for their daughter, in whose name they put the raffle coupon. "We bought for around Dh2,000."
Ajman-based K. Jayant Rai was equally shocked when he received a call informing him of winning a one-carat solitaire diamond.
"I couldn't believe it at first, but slowly it started to sink in. I'm just so happy," he said.
Jayant, who hails from Kasargode, has been working in Ajman for the last six months as a company supervisor. "I had gone shopping for my wife. I bought her gold worth Dh6,700."
It wasn't for any occasion, and since his wife was going back home, he wanted to gift her something nice. "I have never won anything in my life, and this just feels incredible."
Winners of one kilo gold
January 1 - Beena K
Nationality: Indian
January 2 - Ziaullah
Nationality: Pakistan
January 3 - Mohammed Rasheed
Nationality: Indian
January 4 - Nithara
Nationality: Indian
Winners of one-carat solitaire diamond
January 1 - Ramani Augustine
Nationality: Indian
January 2 - Jishnu Vijay
Nationality: Indian
January 3 – V Deepa
Nationality: Indian
January  4 - K.J. Rai
Nationality: Indian
Related items
Mcc organizes grand party to celebrate the completion of cricket section
Man deposits fake gold for loan, arrested
Blood donation camp by Sanghamithra in Dubai
House burgled for gold worth 1 lack rupees in Shaktinagar