Free health check up camp by KCF in UAE
Written by  Sharon Shetty

Published in

NRI Form
Read 474 times
Comments::DISQUS_COMMENTS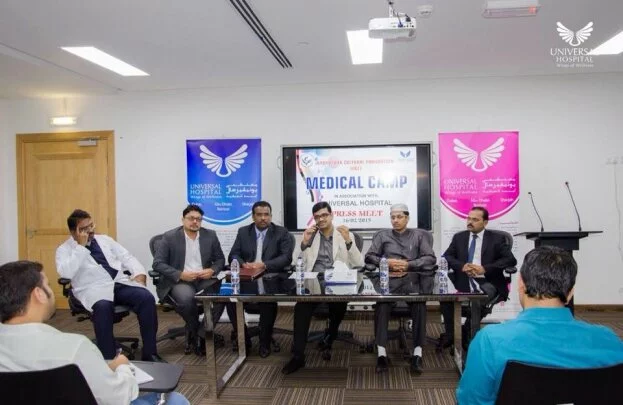 Abudhabi: Karnataka Cultural Foundation (KCF) UAE in association with Universal Hospital has hosted a month-long free medical check-up camp. Universal Hospital "Touching a Million Hearts" campaign with the help of KCF, has taken a significant step forward in maintaining health care.

In this era of increasing diseases, seminars on prevention of diseases and free heart and kidney check up camps will be conducted. Information about immunity boosting techniques will be given too.

Universal hospital CEO, Cardiologyst  Dr.George Koshi in press brief said that KCF will get all the support from the hospital in treating the patients and they will get necessary facilities.

Urologist, Dr. Ishtihak Mangaluru assured that he will be involved in the campaign and will give every necessary treatment.

Later KCF's National Council General Secretary Haji Saik Bava spoke and said that current campaign is the debutant in health information and check up camp. KCF's interest is not restricted to religious field rather spread across in the field of education, health and compassion towards life and also exhibiting it practically.

The activities will be geared up in future in association with all the emirates of UAE, health, check up and personality camps will be conducted in hospitals to increase the way of living of people who travel across and come to UAE.

He expressed his joy that KCF has turned into solitary association for Kannadigas who travel across. And he asked all to make use of the camp.

Corporate Co-ordinator of hospital, Dr. Rajiv, KCF  General Secretary- Hasainar Amani Abudhabi Ajjavara, KCF UAE National Committee,  member of  Dawood Master, Hakim turkalike, KH Muhammad Sakhaphi Isvaramangila and others were present.


Related items
Mega medical camp by KCF a huge success
One dead and another tested positive for MERS in UAE
Yoga camp on World yoga day by Buntara sangha
Blood Donation camp held on behalf of 'World Blood Donor's Day'