Satish Venkataramana Unanimously Elected as president of Karanataka Sangha Sharjah
Written by  Sushmith

Published in

NRI Form
Read 435 times
Comments::DISQUS_COMMENTS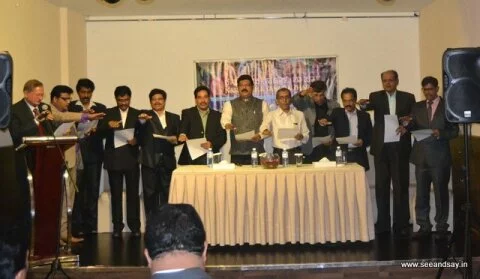 Karnataka Sangha Sharjah Board Members during their AGM unanimously elected Satish Venkataramana as the President for the annual year 2015. The Annual General Meeting of Karnataka Sangha Sharjah was held on Saturday the 21st February, 2015 at Fortune Plaza Hotel, Ghusais and the meeting started at around 8 PM with prayer by Rohini Ananth. 
Presided by foregoing President Shantaram Achar who welcomed all the Working Committee Members and briefed them of the success of all the previous year's activities. He thanked all the Members for their strong support during his tenure.  Later General Secretary, Shashikant Kanangi read out the annual report while Treasurer, Anand Bailoor read out the annual accounts report to the Members.  Soon after that was the vote of thanks by the previous committee just before going with the new committee formation.
 Patron of Karnataka Sangha Sharjah, Mark Denis later chaired the AGM and briefed on the future strategies of the Sangha while smoothly conducting the formation of the new committee for the year 2015 with oath taking ceremony.
The following are the newly elected office bearers of Karnataka Sangha Sharjah for the year 2015:-
 President                             : Satish Venkataramana
Vice Presidents                 : M.E. Moolur / Sughandhraj Bekal
General Secretary            : Ananth N.
Joint Secretary                  : Abdul Razak
Treasurer                             : Shashikant Kanangi
Joint Treasurer                  : Anand Bailoor
Entertainment Secretary: Vishwanath Shetty
Joint Ent. Secretary         : Rajesh Kuthar
Sports Secretary               : Sandeep Rao
Joint Sports Secretary    : Jeevan Kuckian  
Newly elected Women Members for the newly elected Working Committee
 Manjula Ganesh Rai
Suvarna Satish Poojary
Rajani Jeevan Kuckian
Usha Vishwanath Shetty
Rohini Ananth
Wahida Abdul Razak
 The newly formed Committee was congratulated by the Advisory Committee Members, Praveen Shetty, Ganesh Rai, Harish Sherigar & Prabhakar Ambalathare who advised them of the future strategies and vision of the Sangha.
 Newly elected President, Satish Venkataramana thanked all the Members for electing him while seeking continued support from them during his current tenure for every success. The meeting got concluded with buffet dinner while Rajesh Kuthar conducted the programme.
Related items
Sharjah taxi driver returns Dh56,000, honoured
Google Maps users will soon be able to virtually explore Sharjah
Prerana Pai student of Grade 8 receives Sharjah Award
12 th Vishwa Kannada Samskriti Sammelan on 19-20 in Sharjah