Taulava's auspicious "Tulusiri Aisira-2015" unveiled at Dubai
Written by  Sharon Shetty

Published in

NRI Form
Read 414 times
Comments::DISQUS_COMMENTS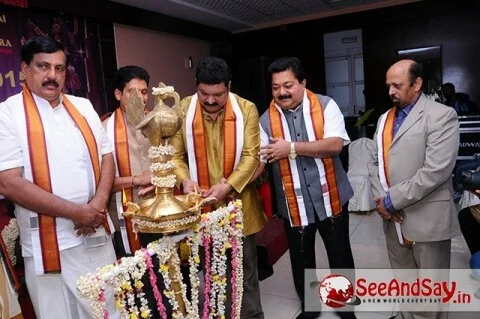 Dubai: Under Dubai Tulusiri on 27th of Feb, an auspicious "Tulusiri Aisira-2015" conclave was conducted whole day long at Dubai Indian Club and was witnessed by Tuluva's residing in Gulf land.
On this joyous occasion, President of the inaugural function who has got tremendous acclamation in tulu language and culture, Dr. Y.N.Shetty and Anchor of the ceremony, Navin Shetty Edmemar, anchor in Namma Tv were escorted by ladies with poorna kumbh to the dias. Welcome dance was perfomed by Miss. Sparsha.
President of Dubai Tulusiri, Shri Padmaraj Ekkar welcomed the gathering. Chief guests Abudabi Karnataka President Sarvottam Shetty, Fortune group of hotels Chairman Praveen Kumar Shetty, Acme building materials Managing Director Mr. Harish Sherigar, head of Daijiworld Mr. Walter Nandalike, Karnataka Sangha Sharjah president Mr. Satish Venkataramana, Managing Director Sri Ramachandra Hegde of Spretek Contracting, and dignitaries residing in UAE who work for Kannada Sangha were present to witness the inauguration by Dr.Y.N.Shetty.
Audio and books on "Sahitya Siri" were released. It was a golden moment for tuluvas in gulf countries that they can get books and audios in gulf which is printed in native. Sarvottam Shetty and Walter Nandalike extended their wishes and expressed their joy.
Shodan Prasad, who served tulu culture and made tuluvere parba a huge success in UAE, and very well known producer of film "Nirel" which got international recognition, was felicitated with his wife Smt. Sandhya Shodhan for his achievements.
Dr.Y.N.Shetty gave information about tulu language's history culture, lifestyle and dressing styles of tulu people.
"Bhashe Siri" a conference on Tulu literature, culture, language, poetry, comedy, drama, Yakshagana and movies, was conducted by B.K.Ganesh Rai.
Overwhelming "Tulu Vaibhava" portraying the glory of tulu culture presented by Ganesh Shetty team got acclamation from the audience.
A poetry session "Kabite Siri" from Irshad Moodbidri also grabbed attention of the audience.
Mesmerising aurchestra "Sangeeta Siri" in arun Karlo's direction manage to hold the gathering on their seats.
Smt.Jasmita Vivek Presented nritya roopak "Tulunada Vaibhava" under the Smile creations Banner.
All the guests were felicitated in the valedictory ceremony. Mementos were given to Naveen Siquera Jovel and media representatives who made this even a huge success.    
Related items
One dead and another tested positive for MERS in UAE
City of gold to get its shine back
Dubai Crocodile Park construction work to begin next month
Tropical storm to hit Oman in next 24 hours