BSK Managing Committee Announces Buntaayana 2015
Written by  Sharon Shetty

Published in

NRI Form
Read 247 times
Comments::DISQUS_COMMENTS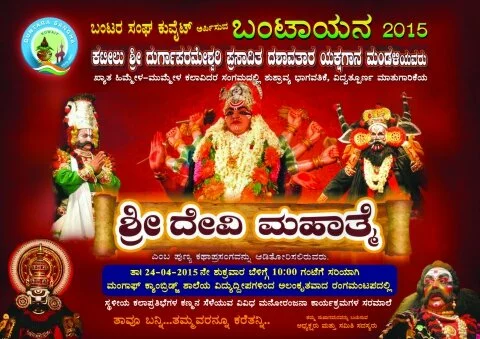 BSK Managing committee announces their annual mega event "Buntaayana 2015"

The program is scheduled on 24th April, 2015 at Cambridge English School Auditorium, Mangaf. The highlights of the program will be a celebration of the epic art form of Karnataka "Yakshagana" from Kateel Sri Durga Parameshwari Prasadita Yakshagana Mandali. "Sri Devi Mahatme"

Living by our trend and keeping in line with our commitment to encourage and promote our own kids and in-house talent, we would appreciate your support by participating in cultural activities. Please contact our Cultural Secretary- Mr. Sudarshan Shetty and his team at the earliest to confirm. If any members are further interested to show their talent, we welcome and would appreciate you to call us at the earliest. Appreciate if the registration and confirmation are done by 15th March 2015.

Members can contribute to the souvenir by articles, poem, jokes, drawing and write-ups (both Kannada and English are accepted) by 31st of March 2015, with your personal information and passport size photograph.
Related items
Yakshalahari: Achievers felicitated
Public Awareness and Yakshagana Program
Crorepati beggar with Rs 10 crore in bank account arrested in Kuwait
"Yakshaayana" inaugurated by Dr. M Mohan Alva