MASA Summer Trophy 2015 ended in a nail biting finish
Written by  Sushmith

Published in

NRI Form
Read 399 times
Comments::DISQUS_COMMENTS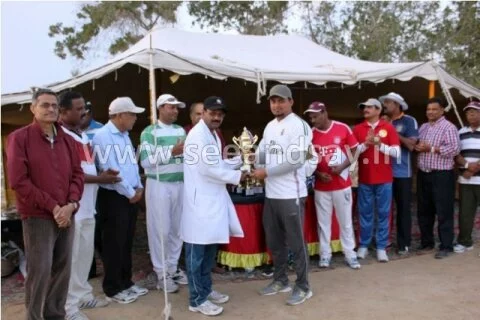 Dammam: Excitement, passion, color and the cricketing excellence of MASA Summer Trophy 2015, aten over knockout Internal Crickettournament was organized by Mangalore Association of Saudi Arabia (MASA)for its members at Sabsa Ground,  in Rakah (Al Khobar) at eastern province of Saudi Arabia on Friday, 13th March  2015.
Eight teams were formed with well experienced cricket players, who are representing well known teams like Cornich Blue, ASP, Sunrise & BMC etc…
Throughout the day, it was a fun filled entertaining cricket for the members. The tournament was inaugurated in the presence of Advisory Committee members, Madhav Amin, Ravi Karkera, Ahmed Ghulam Beary, Excom Members, President Narendra Shetty, Vice president Sadashiva Poojary, General Secretary Vidyadhar Shetty, Jt. secretary Sathish Bajal,Sport Committee Head Viraj Kumar Shetty, Treasurer Praveen Peter Aranha, Jt. Treasurer Babu Kotebettu, Gopalkrishna Shetty, Dayanand Chowta, Ameer Hussain, Edwin Martis, Puttaraju Halappa, Usman Hosangadi, & Ibrahim Khader. Advisory committee member Ravi Karkera and President Narendra shetty urged all the participating players to enjoy the cricket which held for fun and joy  and quoted 'be serious, but don't be too serious'
All matches were played with complete sporting spirit with discipline and well supported by members including the families. Most of the matches were witnessed with nail biting finishes which created excitement, suspense and thrill among the spectators and teammates. Family members witnessed the match with great excitement and were cheering their favorite teams and players. Thanks to Vidyadhar Shetty, Mohd.Nooman, Sathish Bajal, Viraj Kumar Shettyand Gopal shetty for coordinating in scheduling well organized tournament, Gopal Shetty for arranging Trophies, Salim Puttur for photography,Jagajeevan karkera for medical assistance, Ahmed Gulam Beary, Gopal Shetty, Usman Hosangadi, and Mohideen Shaikh for catering management.
Breakfast, lunch and snacks were arranged at the venue. Everyone enjoyed the game of cricket under the pleasant weather condition prevailed throughout the day. Final match took place between Intermodal XIlead by Yoganand Achar andKudla Youths lead by Nizam Abdul Samad. At the end it was Kudla Youthsstood top on the list in a nail biting situation and won the match by just 1 run and lifted MASA Internal Cricket Summer Trophy 2015, prestigious title.  
Match Results:
 BETWEEN
WINNING TEAM
MAN OF THE MATCH  
MASA MULTILINE
MANGALORE UNITED
MANGALORE UNITED
Name: Sampath Kumar  
 RIYAZ AHMED
SAMPATH KUMAR
SAMPATH KUMAR
Score :26 Run/ 12 Balls  
 Wkts: 3(O)- 16(R)- 3(W)  
INTERMODAL XI
MASA GLADIATORS
INTERMODAL XI
Name: Abdul Azeez Hussain  
 YOGANAND ACHAR
 SAHIL AHMED
 YOGANAND ACHAR
Score :37 Run/ 20 Balls  
 Wkts: 3(O)- 37(R)- 3(W)  
MANGALORE BULLS
NAMMA KUDLA XI
MANGALORE BULLS
Name: Mohammed Arif  
 ABHISHEK SHETTY
JAYARAJ MAYYARMOOLE
 ABHISHEK SHETTY
Score :35 Run/ 25 Balls    
 KUDLA YOUTHS
KARAVALI FIGHTERS
KUDLA YOUTHS
Name: Nizam Abdul Samad  
 NIZAM ABDUL SAMAD
 NAVEEN SALIAN
NIZAM ABDUL SAMAD
Score :19 Run/ 18 Balls  
 Wkts: 3(O)- 17(R)- 3(W)  
1ST SEMI FINAL  
Name: Abdul Azeez Hussain  
MANGALORE UNITED
INTERMODAL XI
INTERMODAL XI
Score :19 Run/ 9 Balls  
 SAMPATH KUMAR
 YOGANAND ACHAR
 YOGANAND ACHAR
Wkts: 2(O)- 5(R)- 2(W)  
2ND SEMI FINAL  
Name: Nizam Abdul Samad  
MANGALORE BULLS
KUDLA YOUTHS
KUDLA YOUTHS
Score :30 Run/ 8 Balls  
 ABHISHEK SHETTY
 NIZAM ABDUL SAMAD
 NIZAM ABDUL SAMAD
Wkts: 3(O)- 25(R)- 3(W)    
FINAL   
 INTERMODAL XI
KUDLA YOUTHS
KUDLA YOUTHS
Name: Nizam Abdul Samad  
 YOGANAND ACHAR
 NIZAM ABDUL SAMAD
 NIZAM ABDUL SAMAD
Score :43 Run/ 17 Balls  
 BEST BOWLER OF THE TOURNAMENT
Nizam Abdul Samad
8(O)- 71(R)- 6(W)    
BEST BATSMEN OF THE TOURNAMENT
Abdul Azeez Hussain
120 Run/ 57 Balls    
RUNNER UP TEAM (ABOVE 16)
INTERMODAL XI  
YOGANAND ACHAR  
WINNING TEAM  (ABOVE 16)
KUDLA YOUTHS  
 NIZAM ABDUL SAMAD  
Umpires: Javid Nasar, Gopal Shetty, Naveen Shetty, Osmond D' Souza, Sachin Hegde, Santhosh P.Shetty,Abdul Azeez, Praveen Peter Aranha,Riyaz Ahmed, Nayaz Kaiser,Naveen Salian, Suresh M.J.
Scorers: Dheeraj Sharma, Viraj Shetty, Nagaraj Bajal, Roopesh Suvarna and Rajesh Anchan.
Sponsors:Joy Fernandes (Al Manafa Transport Service Co) Dayanand Shriyan, Ravi Karkera, Madhav Amin, Sadashiva Poojary, Babu Kotebettu, ChandrashekharKarkera, Edwin Martis,Naveen Bhandary, Viraj Kumar Shetty,Gopal Shetty & Group,Praveen Peter Aranha & Vidhyadhar Shetty.
Awards were presented by the members from Management Committee and Sponsors. Medals to winning team was presented by Mrs&Mr.Joy Fernandes. Memorable and entertaining tournament was concluded by inviting the members for the upcoming event of MASA, Sports Day on Friday, 10th April 2014.
Report: Puttaraju  
Related items
Excitement and thrill went high as MASA conducted sports day in Saudi
Social Forum cup-2015 to be held in Dammam and Jubail
Duty-free shopping facility now at KFIA Dammam
BMC bags Western Trophy 2014-15 by 100 runs.