Shree shanaishchara pooja in Dubai concluded with Devine touch
Written by  Editor

Published in

NRI Form
Read 376 times
Comments::DISQUS_COMMENTS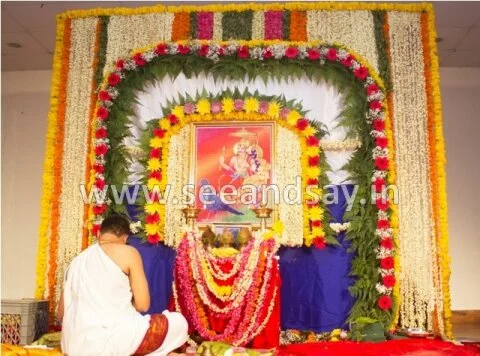 Shri. Shanaishchara Seva Samithi, Dubai in a grand way concluded their 5th annual "Shree Shanaishchara Pooja" at JSS School, Al Safa Behind Gulf News, Sh. Zayed Road, Dubai yesterday with the pooja formalities which started at 3 PM followed by other programmes.
Vittal Shetty welcomed the guests and opened up the pooja formalities to Purhohit M.J. Praveen Bhat who conducted the Pooja rituals with Kalasha Prathistapane while various Bhajan Groups continued non-stop bhajans devotionally.
For the first time a team from Shree Shaneeshwara Bhakta Vrinda, Pakshikere, Kinnigoli who served for more than 22 years back in India along with Yakshamithraru Dubai performed a non-stop 3 hour 'Taala Maddale' on Shani Katha.  The team who arrived from India included Satish Shetty Bondel, Seetharam Kumar Kateel, Ananda Shetty, Vijaya Kumar Shetty, Kadri Navanit Shetty, Padmanabha Shettigar & Prasanna Shetty.
Main Guest, Shree Shree Shree Vikhyatananda Swameejee of Hosmar Matt, Karkala & Guest of Honour, Hon. Minister for Health & Family Welfare, Govt. of Karnataka, U.T. Khader along with other guests from India including Leelaksha Karkera, Managing Director, Namma Kudla, Dist. Rajyotsawa Awardee Pradeep Alva, Tharanath Shetty of Halekote Mariamma Temple, Karunakar Shetty President of Vijaya Bank Officers Union, Mangalore, Shrikanth Rao, Cameraman of Namma Kudla & Jayaraj Devadiga, Chief Editor of Namma Kudla were welcomed with the famous five men Keralite drum beats group.  Besides there were 'Kolata' by Shri. Krishna Bhajana Vrinda, Tiger Dance, Doll Dance (Gombe Aata) by Prabhakar Poojary and Team, 'Bhoota Nritya' and ladies of Shree Varalakshmi Samithi group welcoming the guests to the premises in a grand procession.  All the guests were welcomed with flower bouquet.
Guest of Honour, Hon. Minister U.T. Khader was felicitated with Shawl, flower bouquet, Fruit basket and Memento.  Shantaram Achar read out the felicitation Certificate while Harish Sherigar & Satheesh Venkataramana did the honours on behalf of the Samithi.
Honourable Guest, Shree Shree Shree Vikhyatananda Swameejee was later felicitated by the Samithi with Shawl, Flower Bouquet, Fruit Basket, Memento while Ganesh Rai read out the Felicitation Certificate. Sarvotham Shetty, Jitendra Suvarna, Pravin Attavar, Umesh Kuckian, Madhav Hejmadi & Sudhir Poojary did the honours on behalf of the Samithi.
On the occassion Chief Conveners Sudhakar Thumbe, Vittal Shetty and the Committee Members on behalf of  Shri. Shanaishchara Seva Samithi, Dubai, handed over a cheque of Rs.1.25 lakhs to Shree Swameejee as a donation to Swamijee's School Education Fund. Both Sudhakar Thumbe & Vittal Shetty were honoured by Honourable Minister U.T. Khader.
Later was 'Pravachana' by Shree Vikhyatananada Swameeji which continued with Maha Mangalarati and Maha Prasada distribution.
Sudhakar Thumbe concluded the programme with vote of thanks.  
FREE HEALTH & DENTAL CHECK UP ORGANISED BY THUMBAY HOSPITAL GROUP
On this occasion the organisers had arranged for a Free Health Check-up and Dental Camp which was conducted by Thumbay Hospital, Dubai with free consultancy by specialist doctors under the supervision
of Dr. Bangera who is the Asst. Director Patient Affairs & Marketing, G.M.C. Hospital, UAE.  Many devotees took advantage of the offer and did the check up turned out with good response.
The total programme got concluded successfully with the contribution of various sponsors including Fortune Group's Praveen Shetty, Chilly Willy's Sateesha Venkataramana & Acme's Harish Sherigar.
Report: Shodhan Prasad
Related items
Mcc organizes grand party to celebrate the completion of cricket section
Group of three assaults man in Puttur
Blood donation camp by Sanghamithra in Dubai
Man ends his life by hanging himself in the hospital