National Games: Rajinder nails javelin record
Published in

Athletics & Games
Read 224 times
Comments::DISQUS_COMMENTS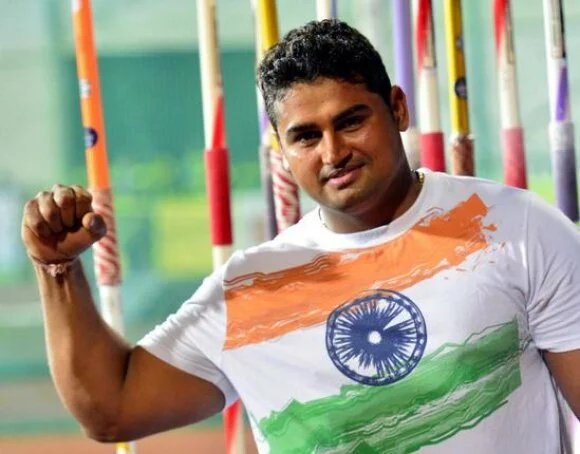 It was Rajinder Singh's day out at the University stadium here on Thursday, as the 25-year-old nailed the National record in the men's javelin throw with a massive throw of 82.23m.

The fourth day of the athletic events of the 35th National Games matched the excitement of the last three days as meet records fell like nine pins in both track and field.

The hero of the day was the burly Haryana thrower, who started off with a new meet record throw of 75.62 and then bettered Anil Kumar Singh's National record of 80.72m, set in 2008, with his second attempt. Rajinder, whose previous best was 79.32m achieved at the 2014 Federation Cup, however, could not find a mark through his remaining four trials but in the end it simply did not matter.

In other action, Renjith Maheswary scored over record holder Arpinder Singh in the triple jump with a new meet mark of 16.66m. Sidhant Thingaliya (Maharashtra) won the 110m hurdles with aplomb while Jithin C. Thomas sailed past the existing record in high jump clearing a height of 2.16m.

Late in the night, G. Lakshmanan (Services) completed a golden double as he added the 10,000m title to the 5,000m gold that he won on the opening day, with a comfortably paced race before stopping the clock at 29:13.50, well within the old mark of 29:39.94.

In the women's section, O.P. Jaisha was undoubtedly the star performer of the day as she, for a second time in four days, ran a solid solo race to win the 10,000m gold medal with a record to boot. The Kerala athlete had won the 5000m title, again with a new meet record, on the opening day.

It was virtually a one-horse race all the way as Jaisha jumped ahead of the pack almost straightaway and then kept on increasing her pace with each passing round. On the home stretch leading to the 19th lap, Jaisha even lapped the pack behind her before dashing to a well-deserved win in 33:08.55; better than the old record of 34:28.26 set by Kavita Raut in 2011. 

The crowd was also treated to an emotional farewell as Preeja Sreedharan after finishing a distant second to Jaisha, ran a lap of honour and then announced the end of a two-decade long association with the sport.

The first Indian woman long distance runner to take part in the Olympics and a gold medallist at the 2010 Asian Games in Guangzhou, China, the 32-year-old was virtually in tears as she thanked all associated with her in making her career an outstanding success.

 G. Gayathry (Tamil Nadu) also sparkled as she ran a superb race in the 100m hurdles to remove Anuradha Biswal's Games record of 13.81s from the books with a new timing of 13. 66s.

In the last event of the day, Kerala's women quartet also broke the 400m relay record with a new time of 45.26s.

The results:

Men: 10,000m: 1. G. Lakshmanan (Ser), 29:13.50 - NMR; OR - 29:39.94, 2. Kheta Ram (Ser), 30:01.44, 3. T. Gopi (Ser), 30:15.03.

110m hurdles: 1. Sidhant Thingaliya (Mah), 13.83s - NMR; OR - 14.10s, 2. Surendhar (TN), 13.98s, 3. K. Prem Kumar (TGS), 14.20s.

400m hurdles: 1. Durgesh Kumar (Ser), 50.66s, 2. Ramachandran (Ser), 50.93s, 3. Binu Aquito (TN), 51.74s.

High jump: 1. Jithin C. Thomas (Ser), 2.16m - NMR; OR - 2.14m, 2. Sreenith Mohan (Ker), 2.16m, 3. Jagdeep Singh (Pun), 2.13m.

Triple jump: 1. Renjith Maheswary (Ker), 16.66m - NMR; OR - 16.62, 2. Arpinder Singh (Pun), 16.41m, 3. Rakesh Babu (Ser), 16.29m.

Hammer throw: 1. Niraj Kumar (Ser), 64.62m, 2. Kaushal Singh (Ser), 63.36m, 3. Sukhdev Singh (Har), 63.13m.

Javelin throw: 1. Rajinder Singh (Har), 82.23m – New National Record; OR - 80.72m, 2. Devender Singh (Ser), 75.34m, 3. Vipin Kasana (UP), 75.18m.

4x100m relay: 1. Kerala, 40.77s, 2. Services, 41.25s, 3. Madhya Pradesh, 41.52s.

Women: 10,000m: 1. O.P. Jaisha (Ker), 33:08.55 - NMR; OR - 34:28.26, 2. Preeja Sreedharan (Ker), 34:58.85, 3. Swati Gandhave (Mah), 34:59.73.

100m hurdles: 1. G. Gayathry (TN), 13.66s - NMR; OR - 13.81s, 2. Meghana Shetty (Kar), 13.89s, 3. Deepika (TN), 13.96s.

400m hurdles: 1. Anu Raghavan (Ker), 58.63s, 2. Santosh Kumari (Har), 59.63s, 3. V.V. Jisha (Ker), 1:00.93.

4x100m relay: 1. Kerala, 45.26s - NMR; OR - 46.02s, 2. Tamil Nadu, 46.29s, 3. Odisha, 46.51s.
Tagged under
national games
Rajinder nails
javelin
Related items
Third prize in shot put and javelin throw
Performance by Shobhana at closing ceremony of National Games
National Games: Another golden double for Vijay Kumar, Sandeep Sejwal ends with four gold medals
P T Usha says artists benefit more from National Games
back to top