Autorickshaw fares too come down in Dakshina Kannada
Published in

Mangaluru
Comments::DISQUS_COMMENTS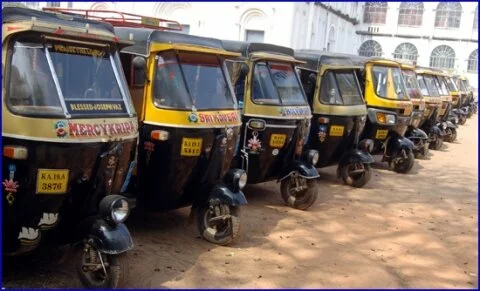 The Dakshina Kannada Regional Transport Authority (RTA) on Friday decided to revert to the December 2012 fare structure for autorickshaws in the district following substantial reduction in fuel  petrol and LPG  prices.
With autorickshaw drivers' and owners' Unions unwilling to reciprocate to the fare reduction demand and sought some more breathing time, RTA Chairman and Deputy Commissioner, A.B. Ibrahim announced that the fares would go back to the December 2012 level, from the ones revised in January 2014.
The revised fares, Rs. 20 minimum and Rs. 13 per km thereafter, from Rs. 25 and Rs. 14 respectively, would be effective from Monday, Mr. Ibrahim said. He said while the petrol has become cheaper by 15.56 per cent, LPG has become cheaper by 39.98 per cent, which is substantial and cannot be ignored in the interest of general public.
Autorickshaw Unions argued that despite reduction in fuel prices, there has not been any reduction in the cost of living, including food prices at hotels. The cost of inputs for running the vehicles too have not come down, they argued. They also said while the RTA had taken over six months to increase the fares in 2013-14, it is hurrying to get the fares reduced at present. They urged the RTA to wait for some more time and also pointed out at the cost of recalibration (about Rs. 500) of meters whenever there is fare revision.
Responding to recalibration issue, Mr. Ibrahim said the Regional Transport Officer (RTO) would conduct special camps for the purpose and they need to pay only Rs. 100 towards government fee.
In-charge RTO, Sridhar Nayak and others were present.
Tagged under
Dakshina Kannada
Autorickshaw
Mangaluru
Udupi
Related items
Plan to renovate open air theater in Udupi: Madhvaraj
Sentinel center proposed for malaria control: U T Khader
Mahurat of Tulu film"Pavitra" commenced at Naguri Garodi
St Christopher Associations annual general body meeting held at Rosario Church