Protest till Varahi water flows to the canals: Ganapati Shreeyan
Published in

Udupi
Comments::DISQUS_COMMENTS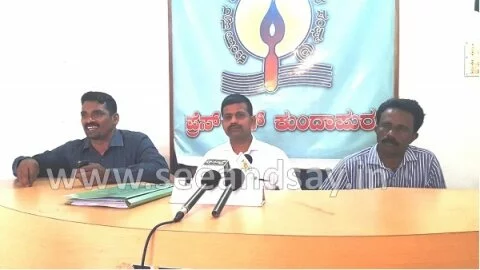 Kundapura: Incompleate work of Varahi irrigation water project has made people furious. As it is 25 years now since the project started and not a single drop is flown to the canal from the dam. The work must be completed as soon as possible and people of the area must be benefited. There is no political gimmick in this protest said advocate Ganapati  Shreeyan at the press meet at Kundapura press club on Monday.

On behalf of the delayed work there is a protest going on since 1st of January as it is warned earlier that if water doesn't  come to the canal before 31st December,  there would be  a remonstration  said officer of farmers association  Ganapati  Shreeyan.

 The farmers association is working for people's problems like CRZ,  Kumki rights, areca farmers compensation,  kasturi rangan report  and so on. Its been fighting for Varahi irrigation water project too since ages. Many attempts were made to complete this project on time.

In accordance to this in 2014, ministers have assured that by the end of the year water will flow but till today no water is flowing into the canal.

Association's president Pratapachandra Shetty said that we are sick of these assurances and it is high time now. We have already warned if there is no water by the end of the month a strict protest would be taken till the water comes into the canal.

Political leaders of different parties, representatives of district, various officers, associations, organizations, scholars', advocates, laymen, religious leaders and many others are support of this protest.

All are equally responsible for the trouble that had occurred now. The project is lagging behind since 25 years and if it continues then it would turn to a white elephant he said.

Corruption has made this project crawl. Over all inspection is necessary about this matter and corrupt officers must be caught under criminal law. We are trying since so many years but no progress is seen due to uninterested nature of the concerned ministers. Because of this officers have become tyrants said Ganapati Shreeyan.

Like one man army Pratapchandra Shetty fought for justice but it did not yield any result. So he took the help of association to raise his voice as he had no other option left

In the meet taluk panchayat member Pradeepchandra Bidkalkatte said it's not a worth project for the people of this area. Rather they have been told to make a canal like china model. But no one took it seriously. If that had done this project would have been completed ten years back itself. But now we are waiting for water and not sue when it will flow. He accused.
Related items
Lawyers protest and demand for the arrest of Nagaraj who allegedly assaulted a lawyer
Sand problem: Locals of Manjanady protest by stopping lorries
Sea of farmers gather in front of DC office to protest against the government
Public protests against illegal transportation of sand to Kerala: halted the lorries near Kalkatta