Maoist pamphlets, handbills in Shedimane: Police on high alert
Published in

Udupi
Comments::DISQUS_COMMENTS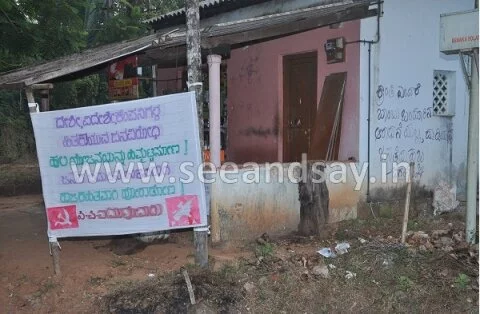 Kundapur: Pamphlets, banners and slogans on the walls against the government written in the name of Communist party of India (Maoist) were seen in Arasammakanu in Shedimane village within Madamakki village municipal on Saturday January 17.

The lines written in Kannada over the walls of some shops and passenger shelter at Arasammakanu market place carried some statements of freedom fighter Bhagath Singh saying, "Revolution does not mean worship of guns but celebration of the working class" It also mentioned a quote from Clara Zetkin who reportedly had said that a country where women are exploited can never be considered a free nation. Slogans like 'anti-people Kasturirangan report should be rejected, CPI (Maoist) party zindabad, let's come together for the protection of Western Ghats, oppose Tiger corridor plan, Let us banish the male-dominated society, come together to fight against plans and reports which are aimed at handing over the Western Ghats to the control of autocrats who want to plunder it', etc.

 Police on learning about the incident rushed to the spot and collected pamphlets, removed pasted pamphlets and erased the graffiti by painting on them.

People living in some parts of this gram panchayat are apprehensive about the deadly influence of Kasturirangan report on their livelihood. Sometime back, a large number of people from Arasammakanu, Shedimane etc had marched to Mandi Moorukai, where they had blocked Byndoor-Virajpet state highway for sometime to register their resentment against the above report. In the later days, thousands had gathered for the meeting organized to discuss pros and cons of Kasturirangan report. The locals are stoutly opposed to the implementation of this report.
Tagged under
CPI(M)
Shedimane
Kundapur
Related items
Lemon, Kumkum in front of a fancy store: black magic or a prank?
Bandh: thumps up in Udupi; mixed reaction in Kunadapur
Hallihole: protests against illegal sale of liquor in the village
Thunder storm creates chaos in Kundapur