Car goes on rampant: Two persons injured, few vehicles damaged
Published in

Udupi
Comments::DISQUS_COMMENTS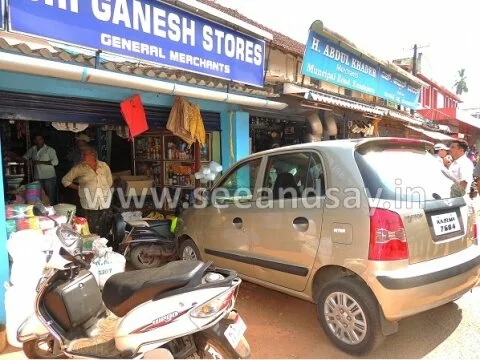 Kundapur: A Santro car after losing control rammed into another car and then collided with two two wheelers before ramming into a shop. The incident happened in old bus stand here on Saturday January 17.

The car was driven by Ramesh resident of Kundapur. He was plying from Chikkansal via Kundapur. Diwakar resident of Koteshwar who was standing in the bus stand sustained injuries in the incident.

Ramesh lost control over his car near old bus stand and went on to create havoc in the region. It first collided with another car parked in front of a commercial complex and sped towards Shri Ganesh stores and rammed over two two wheelers. The menace of the car came to a halt when it rammed into the shop and collided with pillar inside the shop.

Saturday is the day of the weekly market when people flock to the area in large numbers. Usually, hundreds of school children stand here waiting for buses as schools and colleges have holiday in the afternoon. The locals said that it was fortunate that not many people were at the spot when the accident took place, or the tragedy would have been greater.

The locals have alleged that the regular traffic policeman was absent even though the area is usually crowded on Saturdays. The locals and daily commuters have urged the authorities to deploy a policeman here in order to prevent confusion among vehicles and pedestrians.

Kundapur traffic police have registered a case against the Santro driver.

Related items
EV efficiency to improve using Nanoflowcell's technology
Red stone laden Tipper collide with car: elderly lady dies, seven injured
Elderly lady dies as Sand laden truck collides with the car
Lemon, Kumkum in front of a fancy store: black magic or a prank?