Theft in Shri Tirumala Laxmi Venkatraman Temple Vandse
Published in

Udupi
Comments::DISQUS_COMMENTS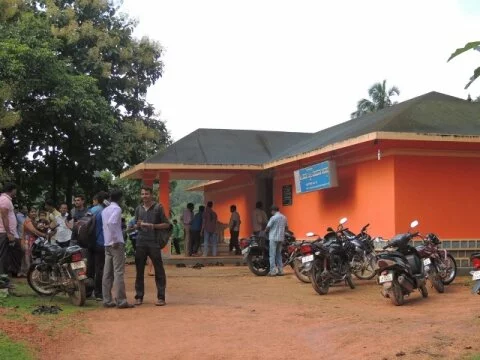 Kundapur: Thieves broke open the front door of Shri Tirumala Laxmi Venkatraman temple and stole silver ornaments and cash from the offering box in Vandse on Saturday late night. The thieves have broken the offering box and stolen the cash from one more temple as well.

Case is filed in Kollur police station.

Thieves have stolen silver ornaments from Laxmi Venkataraman temple and cash from Bhadrakali temple nearby.

The Laxmi Venkatraman temple falls on Kundapur- Kollur highway in Vandse. The theft had happened late night on Saturday informed the police. The thieves broke open the door and entered the garbhagudi and stole silver face, silver bell and 4 silver flags.

They have stolen the cash from Aanjaneya gudi offering box. The thieves have broken the office room and searched for money in the drawer. Silver and cash worth 80 thousand rupees have been stolen.

Along with this they have taken the offering box from Bhadrakali temple in Vandse.

Kundapur DYSP Manjunath Shetty, Byndoor circle inspector Sudarshan and  Kollur SI Jayanth have visited and inspected the spot. Finger print experts and dog squad was also called upon.

 

 

 

 


Related items
Rs. 7 lakh stolen from the parked car in Udupi
Raging River Shipra sinks temples in rain-lashed Ujjain
Hundreds throng Sabarimala, braving heavy rain in forests
Robbery in Belman Durgaparameshwari Temple in broad day light: valuables worth 3 lacks looted