AirAsia plane with 159 aboard overshoots Philippine runway
Published in

World
Comments::DISQUS_COMMENTS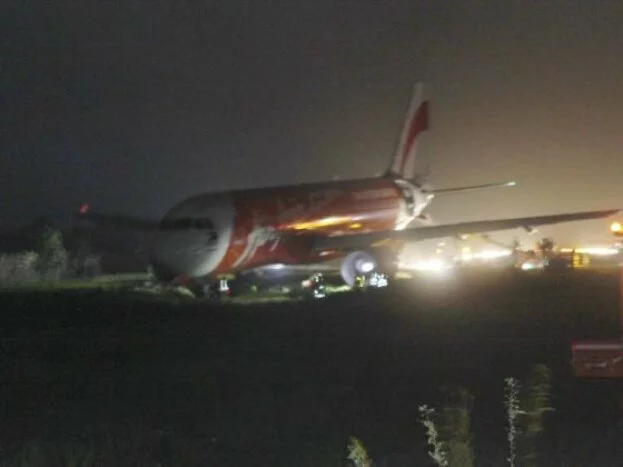 MANILA (Philippines): An AirAsia Zest plane carrying 159 people overshot the runway and got stuck in a muddy field at an international airport in the central Philippines after landing from Manila in windy weather on Tuesday, officials said. There were no reports of injuries.

Crew members launched emergency slides to help passengers disembark from the Airbus A320-200 after it skidded off the runway in the resort town of Kalibo in Aklan province before nightfall, Giovanni Hontomin, who is in charge of AirAsia Zest's operations, said by phone.

Initial reports indicated that three of the plane's tires got stuck in the mud, said Civil Aviation Authority of the Philippines spokesman Eric Apolonio. He said the busy airport would be closed to air traffic until the stalled aircraft, which likely sustained some damage, is towed away from near the runway's end.

A tropical storm has set off landslides and flash floods in the southern and central Philippines, leaving at least 31 people dead and seven missing, officials said on Tuesday.

Kalibo town, 350 kilometers (217 miles) south of Manila, is a busy gateway to the Boracay beach resort, a popular tourist destination.

The accident came after an AirAsia plane crashed into the Java Sea on Sunday during a flight from Indonesia to Singapore with 162 people on board. Bloated bodies and debris were seen floating in Indonesian waters Tuesday.

It also came two days after another incident involving an AirAsia Zest plane. On Sunday, a jet operated by the carrier developed a tire problem in the central Philippine city of Tagbilaran while its 184 passengers and crew were boarding, prompting the airline to cancel the flight to Manila, officials said.

The Airbus A320 aircraft's tire was later fixed, allowing it to resume its flight to the Philippine capital Monday morning. No reason was given for the problem.
Budget carrier AirAsia Zest is partly owned by AirAsia Philippines.
Related items
A380 crash: rescue is on
Airbus A320 carrying 148 people on board crashes
MH370 search to continue, says Malaysia
AirAsia captain left seat before jet lost control - sources