Mouth watering foods served at KWAR Food Festival in Suadi Arabia Featured
Written by  Sushmith

Published in

NRI Form
Read 393 times
Image Gallery
Comments::DISQUS_COMMENTS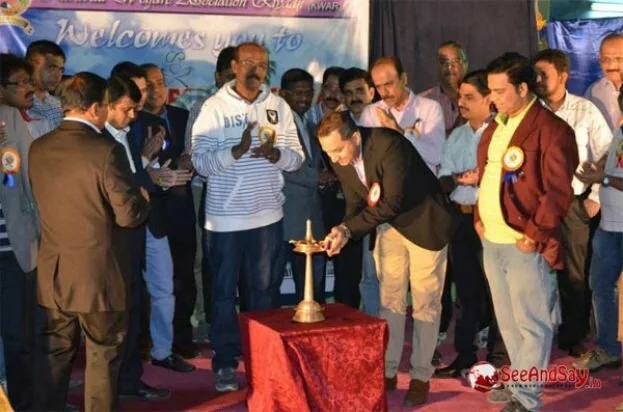 Riyadh: Karavali Welfare Association Riyadh (KWAR), a well-known NRI social Organization, which is famous for its charity activities to the needy expatriates conducted their 2nd Food festival and Cooking competition on the 7th November 2014 at the Capital City of Saudi Arabia. 
The progamme commenced at 6:30pm with the traditional lighting of the Deepa by President Mr. Rajesh Kumar and the office bearers. All executive committee members and the Ladies Wing members were on the dias.
A total number of 9 well organized teams took part in the competition which was mainly based on Indian traditional dishes and cuisine. The Grand Show was well organised and managed by KWAR President Mr. Rajesh Kumar and Vice PresidentMr. Santhosh Shetty  and ably supported by all KWAR executive members as well as KWAR Ladies Wing.
3 experts in food industry who were given the task of judging the show began their evaluations based on Presentation, Taste, Ethnic Food,Hygiene and Variety and the overall best decorated stall.
 All the dishes presented were home made preparations or on the spot preparations exclusive to KWAR members and their families. The Judges were really amazed by the Sheer variety of Indian dishes especially Karavali/Mangalorean.
Tongue twitching, Finger Licking Multi Cuisine and well prepared sweets. 
It was a great task for the judges to judge over 100 different varieties and they did their task with great sense of responsibility which shows their passionfor vast variety of Indian cuisine. 
KWAR is indebted to them for their efforts and time.
All the Food Stalls were bearing Traditional names such as AKRSuvadh, Mrushtanna, UdipiVihar,
Dosa Corner, Aramane, Kadalda Ruchi, Shuchi Ruchi, Oorda Ruchi and Murudeshwar Special.
The judge's reflection is that all were winners in their own right and it was an awesome task for them 
to judge so many dishes.
Winners at Karavali 2014 Grand Food festival & Cooking competition.
 Best Hygienic Stall-AKR Suvadh (Mr. Allen Carol Dsouza & Team)
Best Decorated Stall & Best Dish - KadaldaRuchi (Mrs. RajeshwariYathiraj& Team)
Best Ethnic Food- OordaRuchi (Mr. Satish Amin & Team)
Best Food Presentation – Aramane (Mrs. Anita Eric Dsa& Team)
Consolation Prize –Mrushtanna (Dr. Vanishree Santhosh & Team)
 During the food festival, the massive crowd got their times worth with heart renderingdance performances from Children, Men and Women under the able guidance of our Cultural Secretary Mr.Bhaskar P.M. and Members of Ladies wing. The crowd were at their feet when Mr.Nagaraj Bajal presented his troupe with a unique theme "The Vegetable Rock Dance", which was the real show of the day to entertain the crowd, gathered in the Open Auditorium.
Variety of Games and Spot Games for all were organised by the Ladies Wing Members Mrs. AmithaPrabhu and Mrs. Ritika Kamath and their team.
 The winners of Food festival & cooking competition were Awarded with a number of gifts/Trophies.
All the participants were awarded Special Certificates in recognition of their hard work, dedication and participation. 
KWAR is thankful to all our Sponsors, Specially OurMain Sponsors:
Mr. Kevin Nazareth-Taj Mahal HotelBuraidha & Mr. Ashok Shetty-Soft touch. 
Co-Sponsors:  Adma Shamran Spices, Al Kabeer Foods, Eastern Spices, Kairali Spices,
Guttu Restaurant, Fun Time Toys, Namdhari Rice, BFSA Mazola,Rafa Beauty Parlour,
Wide Angle Printing Press, Al Marai Juices and McDonalds, as well as Individual Sponsors, Mr. BhaskarKotianKarkala, Mr. Ramesh Shetty, Mr. Royston Prabhu, Mr. Suresh Suvarna, for their Generous Sponsorships.
 KWAR president Mr. Rajesh Kumar thanked all the Karavali members, their families & Friends
for their over whelming support and urged them to support KWARs Charity works and activities.
He also commended the Great Show of strength shown by all our Executive committee members as well as members of ladies Wing.
 The show ended around mid-night in a cordial note after reciting the National Anthem.
Related items
Splendid Karavali Parba celebrated in Riyad
Maximum teperature recorded at Ajekaru
Sanjeev Kapoor to be part of Dubai Food Festival
KWAR Sports day 2015 held in Riyadh
Image Gallery
{gallery}1275{/gallery}