Saudi Konkan Youngsters (SKY) Celebrates Nathalancho Dabazo - 2014 @ Dammam
Written by  Chief Editor

Published in

NRI Form
Read 532 times
Comments::DISQUS_COMMENTS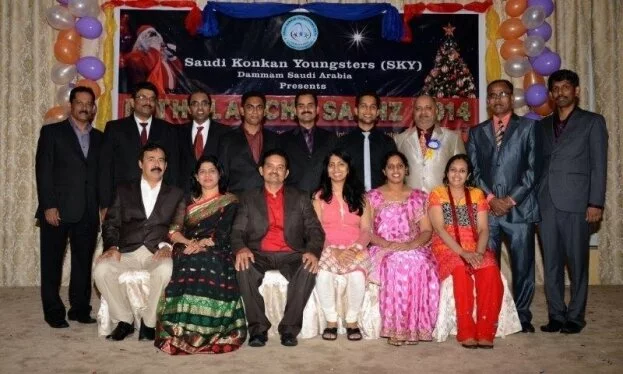 Saudi Konkan Youngsters (SKY) Dammam celebrated its annual Christmas event "Nathalancho Dabazo" on Friday 12th December 2014 at Hotel Dhahran International, Al Khobar. The colorful event began with lighting the ceremonial lamp by SKY President Ronald Fernandes, Shirthady & all Executive Committee members.
An introduction by comperes Mr. Roshan D'souza and Mrs. Ivy Mathias was followed by Prayer in Konkani led by Mrs. Stema Tauro. Christmas carols were sung by the children which was organized by Ronald Anita Sequiera, Leslie Ferrao and Mary Periera. The surprise guest was Santa Claus with his Jingling bells. He wished "Merry Christmas" to the people and gave away chocolates to all the children.
President Ronald Fernandes welcomed the distinguished guests and expressed his heartfelt thanks to all the sponsors for their continuous support & members for their dedicated services. Sponsors and well-wishers were honored with flowers during the event.
Mr. Zakaria Bajpe, a special invited guest and sponsor was felicitated with a flower bouquet and shawl by Steevan Rodrigues and Walter Lobo.
Mr. Richard Molly Dsilva and Mr.& Mrs. Joey Joann Fernandes were honored with Flowers and shawl by Ronald Fernandes for their generous support to SKY.
Our own SKY member, Mrs. Pramila Richard Rodrigues, second runner up in Gulf Voice of Mangalore 2014 was felicitated with shawl, flowers and momento by Ivy Mathias, Nirmala Ferrao and Stema Tauro. She expressed her gratitude to SKY for encouraging her to participate in GVOM 4.
Well known Konkani Singer Lancy Henry Moras from Jeddah, KSA was honored by Mark Tellis and Stany Mathias with flowers and shawl for winning the best Music Album in Gulf region "Milan Mogachen" initiated by LFM Dubai.
The audience was kept engrossed to the stage by series of entertaining items. Kids & adults performed variety of cultural programs like solo and group dances (Western and Bharatanatyam), singing, skits and mouth organ were greeted with loud applause from the audience. Lancy Henry Moras and Pramila Rodrigues enthralled the gathering by singing their favourite number. The best part of the event was Kuswarachi Bati auction. All the people participated and enjoyed it to the fullest. At the end, the winners were Avon Flossy Colaco and Jossy Fernandes. The annual financial Report – charity details were presented by Treasurer Mr. Anil Tauro. Vote of thanks was presented by Joint secretary Mrs. Shanthi Ronald Fernandes.
The delightful evening continued with the raffle draw which was conducted by Ronald Fernandes in which the winners got some fabulous prizes like Samsung smart LED 40" TV, Samsung Mobile, Sony Home Theater, Gold Coins and many more attractive prizes..
Many well wishers came forward to support this event, prominent among them are Zakaria Bajpe, Kiew Pinto, Richard Molly D'silva, Joey Joann Fernandes, N. B. Pillai, Melwyl Blanch Dsouza, Thomas Crasta, Vincent Jessy Saldanha, Arun Amrith Dsouza, Stany Ivy Mathias, Steevan Jennifer Rodrigues, Roshan Anitha Dsouza, Mark Vinita Tellis, Walter Lolita Lobo, Alwyn Shamala Fernandes, Anil Stema Tauro & Shanthi Ronald Fernandes.
A grand Dinner was served at the end which was enjoyed by one and all. Around 400 plus Konkani speaking people including kids and teenagers actively participated in this family event. The exciting and awesome evening was concluded with baila dance and audience returned home with sweet memories of SKY Nathalancho Dabazo 2014.
Related items
Bahrain Billava's
MASA Summer Trophy 2015 ended in a nail biting finish
Social Forum cup-2015 to be held in Dammam and Jubail
Akhanda Bhajana Mangalotsav: by Mogaveer's Bahrain