Fresh violence erupted in Shivamogga
Comments::DISQUS_COMMENTS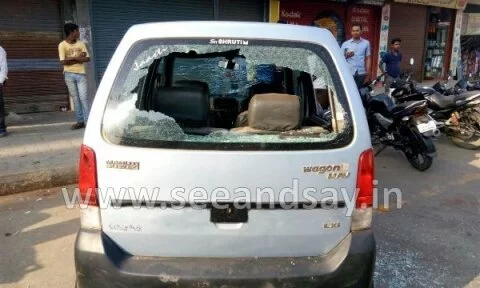 Shivamogga: Miscreants pelted stones at shops and vehicles in Shivappa Naik circle, Gandhi Bazaar and in many other places as fresh violence erupted in Shivamogga on Friday February 20.
The district was on boil after a PFI rally on Thursday. One person was killed and several others were injured as members of two communities clashed.
Vishwanath was the man died in the incident. Locals and the relatives of the deceased protested demanding the arrest of the culprits.
The state government announced Rs 10 lakh compensation to the family of the deceased. District incharge minister Kimmane Rathnakar visited the house of Vishwanath and handed over the cheque of Rs. five lakh.  
Earlier news :
Related items
Line man dies due to electric shock in an electrical pole
Blogger hacked to death in Bangladesh: Fourth case in six months
Child and Woman die in an accident during police inspection
Sajipa Munnur attack victim dies in hospital