Criticisms are normal when you serve the society selflessly don't stop go ahead: Nadoja Dr. G.Shankar
Comments::DISQUS_COMMENTS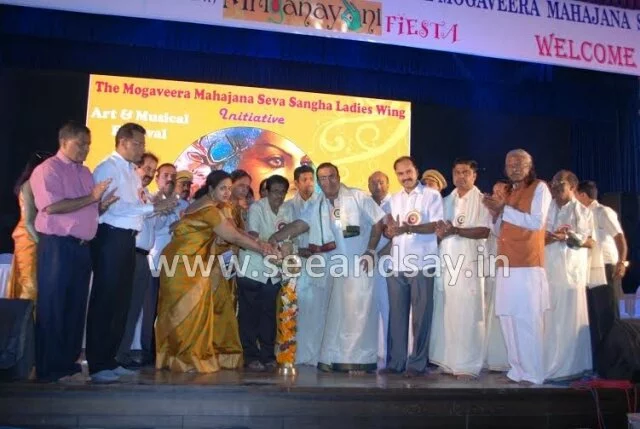 Mumbai: In an inaugural function of "Mruganayani" from the women's wing of Mogaveera Mahajan Seva Sangha, Nadoja Dr. G.Shankar addressed the people that whenever one serves the society selflessly they will be criticized. But one should not consider it and must move ahead. He also asked people to help the poor and needed.
Competitions for elders and youngsters were conducted by the wing.
Ex-president of the association Suresh Kanchan spoke and said that even being born only four month back where the association has 75 years history; Mahila vibhag has done a great job by organizing a program like this.
Women's wing president Suchitra.S.Putran thanked the group and asked parents to boost their kids to make the most use of this stage. If women participate in large numbers various programs would be conducted in future.
President of  Mogaveera Mahajan Seva Sangha Mahabala Kundar Presided the purpose and Praised Suchitra and Santhosh putran  for their commendable work.
Mogaveera Management committee president Ajit Suvarna, Mogaveera Youth wing President Sadananda Kotian, Mogaveera Bank director Pradeep Chandan, Gopal Putran,R.D.Shinde, Santhosh Putran, Raghuram Chandan, Raju Mendon, Yashoda Kanchan, Vasanti Naika, Shrinivas Kanchan were leading the stage.
Report: Ishwar M. Ail, Pics: Dinesh Kulal
Related items
Bunts Sangha ladies wing celebrates Aatidonji dina
Radhe Maa reaches Mumbai; to depose before police in harassment case
Technical snag,IndiGo flight 6E 178 from Mumbai to Delhi returns to Mumbai
Mumbai journalist who wanted to join ISIS arrested in Delhi