'International Milad Sangam' splendid function by K.C.F Kuwait
Written by  Editor

Published in

NRI Form
Read 541 times
Comments::DISQUS_COMMENTS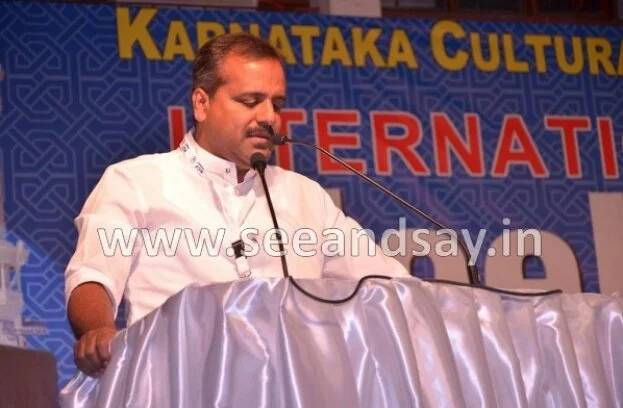 On the occasion of world prophet Mohammad Mustafa's birthday, K.C.F Kuwait organized a splendid program 'International Milad Sangam' on 1st of January at Abbasis Indian Central School. People in thousands graced the occasion.
Programme  begun with the dua of Habeeb Bukhari Tanghal.
S.S.F.S's  vice-president Ismail Sakadi recited Kirahat.
Secretory Mansoor welcomed the crowd.
Sayyad Bafakhi Tanghal addressed the gathering .
Sayyad Khaleel Bukhari  Tanghal inaugurated the function and said muslims can only get success through education. Everybody must support to get education. Salwat must be hiked on Rasool he said.
Anchorman Umar Zahari released forthcoming projects of K.C.F. As a part under this an assurance of donation to Kidney dialysis in hospitals of Mangaluru, adoption of poor and orphan children to give them education, conducting groups to donate blood in hospitals of Kuwait and Mangaluru, 'Marriage bank' for poor girl childs marriage and re bulding the madrasas and mosques in north Karnataka were given in the presence of Health Minister of Karnataka U.T.Khader.
Kuwait's Ambassador office  2nd secretary Shri. A.K. Shrivastav spoke and said that enough support and help would be given to NRI's they must make the most of it. At the same time he hand overed the registered copy of K.C.F of Kuwait block to M.S.M Abdurrasheed  Zaini.
The ceremony was sermoned by Religious scholar Talat Naksh Bandi from Pakistan.
Presidential speech was given by Habeeb Khoya.
A.P.Abubakar Musliyar was escorted to the podium with a welcome song  of Karnataka yatre.
Addressing the crowd janab U.T.Khader said that this milad sangam will create history in Kuwait. Our position is not permanent. Love and respect to Rasool is our asset. He also said not listen to criticism and should go ahead.
Religious leader of AustraliaMaulana Mahammad Husain said ceremonies like this doubles the love upon Rasool.
Egypt's Religious scholar Mohammad Inami Savool Abdul Salam Najee read 'Maulid'.
 Rhetoric of Karnataka, K.C.F's central committee secretary M.S.M Abdurrasheed  Zaini said K.C.F is giving various programs and  many more yet to come  in future.
Sultanul Valma A.P.Ustad launched K.C.F website.
Nate Shariye was read by Master Nabee Barakati
 Felicitation of Master Nabee Barakati as 'Pidaye Madina', Janab U.T.Khader as 'creative leader' and  M.S.M Abdurrasheed  Zaini as 'Prabhashan ratna' was done by Habeeb Khoya.
Addressing  the gathering.P. Abubakar Musliyar said that K.C.F is aheading towards victory in Kuwait. After  'karnataka yatra' it's been more strengthened he said.
 With the dua of A.P.Ustad, function validated.
Related items
Crorepati beggar with Rs 10 crore in bank account arrested in Kuwait
Shiite mosque bombing: Kuwait arrests suspects
Electricians, plumbers must hold diplomas, says Fadhl
Kuwait to host ALECSO's session