Horrific highway crash takes 12 lives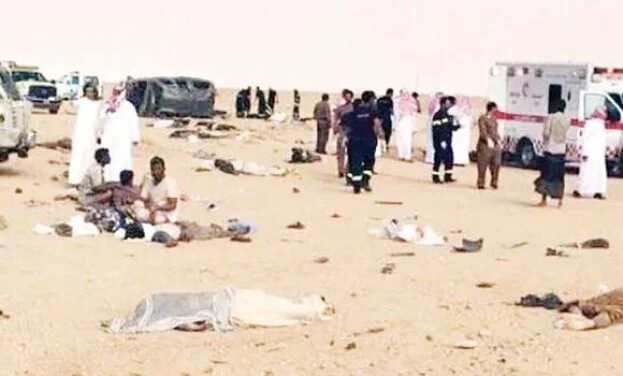 Riyadh: Twelve men died and 20 others were injured in a major road accident on Monday near Dawadmi, 350 km from Riyadh. The accident took place between Mohaira and Dahwi around 12 at noon, when a GMC carrying undocumented expats collided with another GMC.Fahd Al-Huwaili, public relations manager at Dawadmi General Hospital, said that the authorities scrambled three ambulances to the site of the crash, while eight of the injured were rushed to the nearest Quraiyat hospital.

The victims were all men, mostly from Ethiopia and Yemen. Civil Defense personnel and the Saudi Red Crescent Authority (SRCA) assisted the injured and sent them to nearby hospitals. According to Saleh Al-Anezi, SRCA spokesman, six ambulances and two air ambulances were rushed to the site to help the victims. The injured are being treated at King Abdul Aziz Medical City, National Guard Hospital, Prince Salman Hospital, Quawaiyah General Hospital and Dawadmi General Hospital. According to sources, a number of the injured are in a critical condition and there is a high possibility of the death toll going up in the next 24 hours.

Dimpitha