`Mak Koy Cylone special tea powder' released to the market in a grand function in Dubai
Written by Vajra

Published in

UAE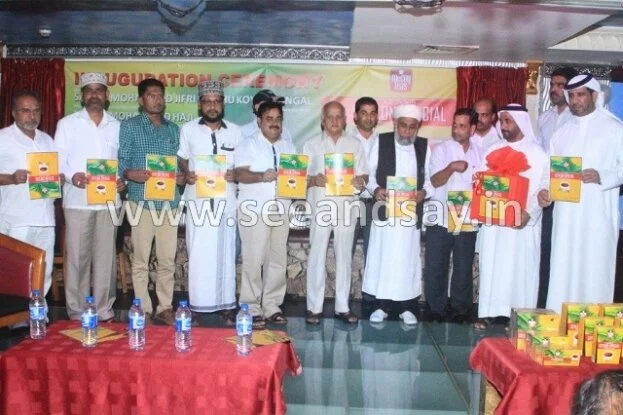 Dubai: The releasing ceremony of new brand of tea powder `Mak Koy Cylone special' owned by the founder of R.M Group in Bengaluru, Janab Abdul Khader Anchinadka who also owns M.B Geeneral trading MLC in Dubai on Sunday November 23 at around 9pm in the auditorium of Rafi hotel here.
The programme was presided over by Janab Metro Muhammed Haji (Chairman of Metro group of companies, Director of Chandrika news paper and President of Kanhangad united Jamaat).
The new tea brand was inaugurated by Kanhangad Khazi Sayyed Muhammed Jifri Muthu Koya Tangal.
Muhammed Abdullla Muhammed Sayeed Al Bad Vavi, Saif Sulthan Ali Al Bad Vavi, Janab Basheer Vellikothu (Secretary united Jamaat, Kanhangad), Janab Basheer Arangadi (Auditor Malabar news paper), Janab Askar Ali Tangal (civil engineer, Gama constructions), Janab Shamshuddin, Janab Sharif (secretary united Jamaat), Janab Yusuf ( M.D, Rafi hotel), Janab Abdullah (MD Rafi hotel) and others were present.
Janab Abdul Khader Anchinadka welcomed the gathering. He explained the speciality of the new brand. He stated that the tea powder has not been adulterated and is brought  from Shrilanka. This tea powder is healthy and cheaper compared to the other products he added.
Kanhangad Khazi Sayyed Jifri Muthu Koya Tangal said that the business is the principle of Prophet and Allah's support can be obtained and success can be gained if honesty and principles of business are followed properly. Later the new tea brand was inaugurated after a special prayer and handed over the first pack of the tea powder to Muhammed Abdullah Muhammed Sayeed Al Bad Vavi. Bad Vavi opened the pack and handed over the powder to President Metro Haji and others.
In his Presidential speech Metro Haji praised the social works and  kind heartedness towards people of Janab Abdul Khader Anchinadka in his home town.
Partner of Mak Koy Teas Cylone Special Janab Ashraf Khan Manthur read the vote of thanks.
The programme was compered by Badruddin Hentar and Noor Muhammed Nirkaje. Tasty food was served after the programme.
Report: Badruddin Hentar.

Vajra
Related items
'Bale Telipaale' in Dubai… The countdown has begun for comedy extravaganza
Grand KIC meet in Dubai on December 5
Plastic notes in market very soon!
Indian woman who killed 11 month old child sentenced life imprisonment in Dubai