Agra conversion row: Oppn uproar continues in Parliament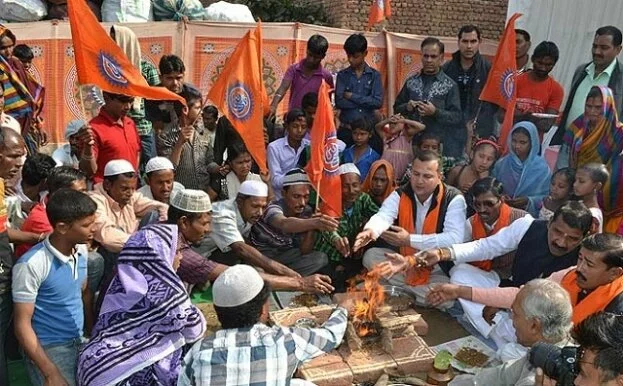 Agra: Uproar continued in the Lok Sabha on Thursday with almost all opposition parties demanding the suspension of the question hour and a discussion on the Agra "conversions".

As soon as the house met for the day, members of the Congress, Trinamool Congress, Rashtriya Janata Dal (RJD) and CPI-M trooped near the speaker's podium, and also raised slogans like "Modi sarkaar hosh mein aao" (Wake up, Modi government) and "Hindu-Muslim bhai-bhai".

Congress leader Mallikarjun Kharge asked Speaker Sumitra Mahajan to allow a discussion on the issue.

"You have full powers to suspend the question hour. The government has already agreed to a discussion, kindly allow us," he said.

Samajwadi Party leader Mulayam Singh Yadav said that the matter should be taken "seriously".

"Otherwise, there might be riots," he said.

Nearly 300 members of some 60 Muslim families living in a slum on Agra's outskirts reportedly embraced Hinduism on Monday. A day later the families claimed they were tricked into conversion in an event couched as 'homecoming ceremony'.

Opposition members had raised the issue in both houses of Parliament on Wednesday as well, while Islamic organisations took to the streets demanding protection to vulnerable members of the community.


Related items
LeT may target Agra-Delhi highway: New intelligence
RSS says it converted 200 Muslims into Hindus in Agra
Man in Uttar Pradesh pays Rs 50,000 for a bride, who turns out to be a boy