Bahrain election begins with overseas voting
Written by Chief Editor

Published in

Bahrain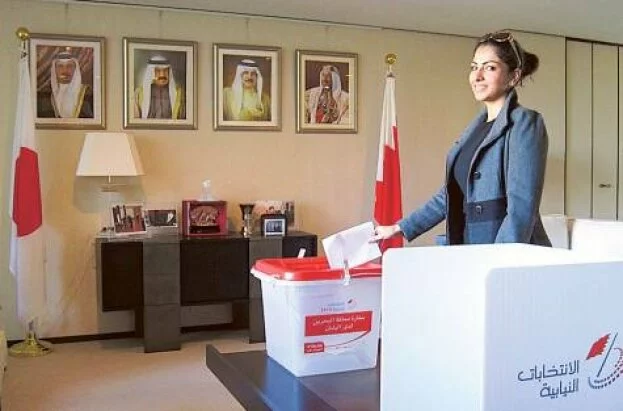 Manama: Bahrainis overseas on Tuesday cast ballots to elect lawmakers in the fourth quadrennial elections in Bahrain's modern history.
Bahrainis currently in Japan, either as residents or as visitors, were the first among the 1,667 men and women who last week registered as voters, to cast their ballots and elect their representatives in the lower chamber of the bicameral parliament.
The embassy in Washington will be the last of the 29 Bahraini diplomatic missions where voters can cast their ballots.
Voters in Bahrain will cast their ballots on Saturday November 22 and, in case there is no clear winner in their constituency, on November 29. Overseas voters will head a second time to the polling stations on November 25 if none of the candidates in their constituencies secured more than 50 per cent of the votes.
According to election committee officials, 1,195 Bahrainis voted in polling stations overseas in 2010.
"The results of the overseas voting will be announced along those of the voting in Bahrain," Abdullah Al Buainain, the executive director of the parliamentary elections, said.
The total voting bloc in the 2014 elections is 349,713 men and women who will elect 40 lawmakers.
The lower chamber will undergo a look change of at least 50 per cent since only 22 of the 40 constituencies have incumbent MPs seeking to keep their seats.
The elections will be the first to be held since the redrawing of 80 per cent of the electoral constituencies resulted in 90 per cent of all the constituencies almost equal in size.
"The redrawing aimed to ensure that all Bahrainis participate in the democracy process," Shaikh Khalid Bin Ali Al Khalifa, the justice minister, said. "Claims that some constituencies are closed and that they are confined to specific candidates are not true. They are open to all and political societies must change their message to be able to win over voters. We do look forward to true competition based on patriotic platforms and that is not based on any form of sectarianism," Shaikh Khalid said in September.
For voters, the new parliament should make sure that housing and employment are ranked as its top priority in the next four years.
Promoting stability and consolidating national unity following the social and political fractures caused by the events that unfolded in the country in February and March 2011 are also among the voter's wishes.

Chief Editor