Kadam : Kundapura Devadiga Mitra celebrates its 4th Anniversary at Marco Polo Hotel Deira Dubai.
Written by Chief Editor

Published in

NRI Form
Featured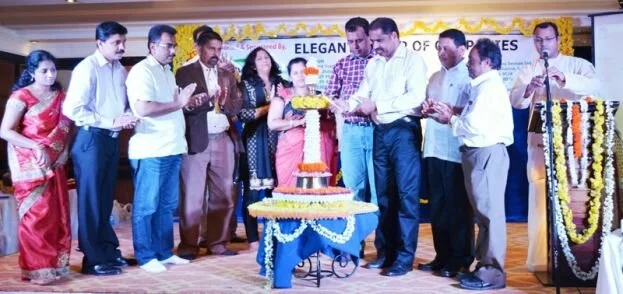 Dubai, Nov 07: It was a glorious and glittering celebration for "KaDaM" (Kundapura Devadiga Mitra) members when they congregated to commemorate their fourth anniversary on 7th Nov at Marco Polo Hotel Deira, Dubai in midst of jam packed members of the Community who witnessed the programme.
The program kick started sharp at 12.00am with the lighting of the lamp by Dinesh Devadiga Couple, Sudhakar Devadiga Couple,  Nithyanand Beskoor Couple, Raghuram Devadiga, Raju Devadiga Trasi, Sheena Devadiga, and Balakrishna Salian, followed by a prayer song devotionally recited by  Shiva Kumar.
Nithyananda Beskoor welcomed the members, sponsors and the media to the function by promising an exciting day filled with loads of entertainment, fun and frolic.
Program was ably hosted by Santosh Sherigar &  Vidhya Shivakumar while Divya conducted spot games to the gathering.
The cultural program kick started with Traditional dance by Laxmi Jayachandran of Symphony group followed simultaneously by a small video presentation of KaDaM called " Nishwartha Seveyalli KaDaM" and it succeeded in showcasing the traditional way of peaceful living in the earlier time and current way of terrific living with the day today hurdles like rushing to the office in the morning, traffic Jam, no time for family and people are forgetting the peaceful life with a  self adopted modern life. And also it depicted the Growth and social work KaDaM has undertaken since its inception.
As of date, "KaDaM" takes pride to announce that a whopping amount of around Rs.15 Lakhs has been collected as KaDaM Education Fund kept in a bank as Fixed deposit. With bank interest and contribution from KaDaM Members every year around Rs.2 Lakhs worth of Scholarship and Rs.1 Lakh worth of Books is being distributed to the needy people and also every now and then based on the request KaDaM members are contributing to pay for the medical expenses to the hospitalized patients. The Monthly Contribution of the Members helped to create Medical Fund to necessitate unexpected medical expenditure. KaDaM Team conducts Blood Donation in Latifa Hospital Dubai as its social cause and organizes a day long Picnic to its members every year.
The spellbound performance by versatile group singers Shiva Kumar, Shahid. Raghavendra Hebri, Kumari Adhira & Divya headed by KaDaM member Pramod Kumar mesmerizes the audience with their melodious numbers. Dance performance by Kumari Maunika, participants from Symphony Institute Ajman, Vijaya & Groups Dubai, and Ocean Kids kept the audience on their Toes with their class performance. The twin dance performance by KaDaM Man and women choreographed by Satish Devadiga attracted the crowd attention and Satish Devadiga was given token of appreciation and also Yuvaraj K Devadiga awarded with "Best Team Player of the Year 2014" for his best all round performance in organizing event.
KaDaM Devadiga  Sadaka Prashasti - 2014 conferred  on Raghuram Devadiga Alooru


This year 'Devadiga Sadaka Prashasti' was conferred on Raghuram Devadiga as recognition to his achievements and contributions in Karnataka State Govt. Employee Association and his continuous social work for the well fare of the people.
Devadiga Sadaka Prashasti is given to individuals as a token of appreciation to their service excelling in any field. The sequence of the events are as follows, shawl by Raju Devadiga Trasi, Garland by Shekhar Shetty   Tradition peta by Seena Devadiga, Fruits by Nithnanda Beskoor and Bouquet by Balakrishna Salian were presented in a traditional way.  Prashasti Patra  was read out by Narayan Devadiga Badakere before it was presented by Dinesh Devadiga. After receiving the Sadaka Prasasti overwhelmed Raghuram Devadiga thanked the organizers of the event and shared his view with the gatherings.
KaDaM supporter, attending the function of KaDaM every year Raju Devadiga shared the good work done by KaDaM and inspired the members with his motivated speech.
Balakrishna Salian, Kevin Lewis, Pradeep Nair, Bharath Shetty, Sudhakar Pai, were also present in the stage.
Satish Venkaramana of Chilly Willy and Shodhan Prasad,  Divesh Alva of Hotel Wood Land Sharjah also attended the function even with their tight schedule true to their support to the organization.
Mementos were given to all sponsors, participants and the media persons for their support and coverage. Cultural programs were professionally arranged by Yuvaraj Devadiga, Pramod Devadiga and Satish Devadiga
Some of the spot prizes were given to the winners of the games and raffle draw was also a part of the fun filled day.
The event was concluded by vote of thanks given by Vishalaxi Dinesh. She thanked all the Sponsors, Participants, Guest of various organizations, well-wishers KaDaM Members who made the event a grand success and for planning and executing this event in an organized manner.  Elegant Group of Companies were the main sponsor of the event.
Report:
Narayan Devadiga Badakere
Tagged under
Dubai
Kundapura
Devadiga
Anniversary
Kadam
Related items
Grand KIC meet in Dubai on December 5
12 feet python bites man who tried to catch it
Indian woman who killed 11 month old child sentenced life imprisonment in Dubai