Only company taxis to pick up passengers at airports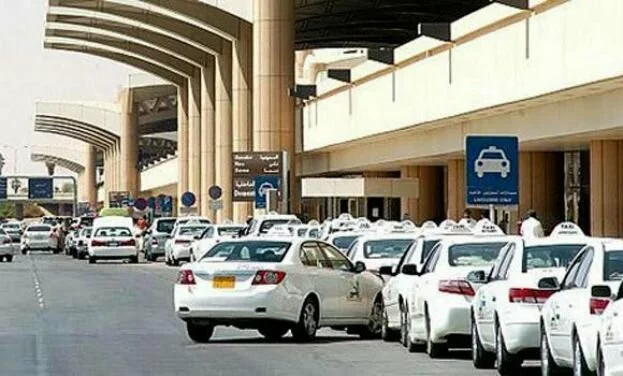 Dammam: The General Authority of Civil Aviation (GACA) has banned individual Saudi taxi drivers from operating at the Kingdom's airports from Oct. 24 to make for a revamped airport transport system.
More than 1,500 drivers, of whom nearly 360 work at Dammam's King Fahd International Airport (KFIA), now face unemployment in the wake of this decision.
Taxi drivers had received an official letter from the authority saying that their contracts would end after more than 11 months of verbal notice that their licenses would not be renewed. Taxis will henceforth operate with several companies under one umbrella, which will provide a uniform standard of modern, air-conditioned vehicles and adhere to safety requirements, as well as introduce a unified dress code for drivers, according to Khalid Al-Khaibari, GACA spokesman. "The decision has been taken in a bid to organize and raise the standards of airport transport services," read the letter.
"It will also eliminate vehicle crowding at the airport entrance since customers will now have to request taxi services at a specific counter," he said. The decision will eventually be implemented across all of the Kingdom's international airports, according to Al-Khaibari."Unifying standards will drastically improve quality of services," he said. "Some existent taxis might be subsumed under these companies."
An official at one international airport, who did not want to be identified, said the decision was taken after receiving countless complaints of extortion, lack of professionalism and rudeness. "This is why GACA has taken this decision," he said. Several drivers, many of whom have worked in the field for more than three decades, told Arab News that their income would be badly hit by the decision, which they described as unfair.
"Countless Saudi cab drivers have more than 25 years of experience on the road," one driver said. "Some had even fallen victim to traffic accidents trying to earn a decent living for their families."
"The decision has come down on us like a ton of bricks," said Yasir Ali, another driver. "We have less than a week to get our lives in order." The drivers intend to submit complaints to Eastern Province authorities after they say GACA ignored their demands. "More than 150 expat drivers who work for the same company are still operating at the airport," said Abdulrahman Majed, a taxi driver who has been working for the airport for a decade.

Dimpitha
Related items
Gold bars hidden in the footwear seized in Mangaluru airport
Threat message to Kempegowda airport: Three suspects arrested